To date, athletes have received more than 1.9 million free screenings through the Healthy Athletes program since its founding nearly 20 years ago. In 2016 alone, the Special Olympics Health program, made possible by the Golisano Foundation, provided health screenings and services to athletes in 67 countries. Health partners, volunteer doctors, nurses and medical students also took part in 1,251 Special Olympics health events focusing on people with ID and their unique needs.
People with intellectual disabilities are still one of the largest groups of underserved individuals in health care, but we're making progress helping them to get access to quality care – by raising awareness, educating more health-care providers to be able to care for them, and developing relationships with key partners, such as health-care systems, universities and government agencies.
Tom Golisano-- Founder, Golisano Foundation
What is 'Inclusive Health'?
Special Olympics is working to break down barriers that prevent people with ID from receiving equal health care and attention as people without ID. One major barrier includes lack of training of medical professionals on ways to communicate with people with ID; sometimes, ignorance or fear can be barriers as well.
In 2016, Special Olympics began a new five-year "inclusive health" strategy. The vision for Special Olympics' health work is to create a world where people with and without ID have the same opportunities to be healthy. In this way, Special Olympics athletes can perform at their best on the playing field – and in life.
Healthy Hearing in Botswana
Many of our athletes are unable to communicate. Healthy Athletes volunteers – who are trained to work with people with intellectual disabilities – know what to look for and how to work with athletes of all abilities.

For example, trained volunteers made an important difference during Healthy Athletes screenings at Special Olympics Botswana's 29th National Games. The screenings were conducted by a team of 11 audiologists and clinicians. These volunteers knew this population well and what to look for; they used patience, gentle persuasion and skill. The Healthy Hearing screenings turned up a wide range of silicon, fruit seeds, and grass embedded inside athletes' ears. Their removal has made a huge improvement in these athletes' hearing – and in their lives.
Healthy Communities
Now in its 5th year, the Healthy Communities initiative continues to improve health and wellness for people with ID around the world. Tom Golisano and the Golisano Foundation, have committed $37 million to Special Olympics global health programming since 2012. The goal is to increase access to health, fitness and wellness programs for people with ID -- no matter where they live.
In 2016, the first 13 Programs achieved status as Healthy Communities -- representing the highest level of Special Olympics health programming. In order to receive Healthy Communities recognition, Programs focus on six criteria with the ultimate goal of increasing access to quality health care and improving the health status of people with ID. The award recognizes Programs that have expanded Healthy Athletes and developed partnerships and programming that provide ongoing follow-up health care, health education, wellness and fitness opportunities, and community support.
These 13 Healthy Communities are in Kazakhstan, Mexico, Paraguay, Romania, South Africa, Thailand and Uganda, plus U.S. Programs in Arizona, Arkansas, Florida, Nebraska, New Jersey and Wisconsin.
Thanks to continuing support from the Golisano Foundation, we are working to achieve our goal of 100 Healthy Communities by 2020. This transformative health work is aimed at building a world where all people with ID can lead healthy lives and have equal access to quality health care and services.
Beginning in 2016 and continuing through 2020, Special Olympics Programs are also activating one-year and three-year Healthy Community grants to achieve this vision. So far, Programs in all seven Regions have received Healthy Community grants and fitness grants – from Bolivia to Bangladesh, Macedonia to Macau.
Health Leadership Awards
Our focus on 'inclusive health' is already working to erase health-care disparities for people with ID. This year, the Golisano Health Leadership Awards were established to recognize achievements made by outstanding individuals and partners, who are helping Special Olympics Health programs expand and improve lives worldwide.
"These are the people who are on the frontlines, turning their vision into reality, creating a network of care that is having a life-changing impact on hundreds of thousands of people," says Ann Costello, executive director of the Golisano Foundation. "We thank them for leading the way and making significant contributions toward achieving health equity and inspiring others to follow similar paths."
Twenty-five honorees from Special Olympics Programs around the world received the award in 2016.
Breaking Down Barriers to Sight with Healthy Communities Launch in Nigeria
It's a fact that people with intellectual disabilities are at risk for a number of preventable health conditions.

Yet, sometimes it takes an expert to know what to look for. At a Special Olympics Nigeria health screening -- funded by a Healthy Communities grant -- some parents were reluctant to let their children receive a free vision test. Then a staff member noticed that one athlete was squinting. The athlete's mother was sure that her daughter's eyes were fine.

Volunteers conducted a thorough screenng and found that the young girl needed prescription glasses. Free lenses were cut on site. When the glasses were fitted to the child's face, the relief to her squinting was immediately clear -- and so was her joyous reaction.

The mother and other parents said they thought only a change of eye color, pain or other dramatic symptom would indicate a visual problem, and so had never tested their children. The mother was extremely grateful that Special Olympics health volunteers had offered -- and encouraged -- this life-changing treatment.
Health and Wellness
Physical fitness is an essential part of our mission. In 2016, Special Olympics created new and expanded resources aimed at helping Programs expand their fitness offerings to athletes interested in pursuing year-round, lifelong fitness.
Twenty-two Special Olympics Programs were selected for a Fitness Implementation grants funded by Finish Line.
Through this grant, more than 1,500 athletes, partners, coaches and family members got to experience the importance of a healthy lifestyle through adequate physical activity, nutrition and hydration as Programs replicated one of three field-developed, Special Olympics-endorsed fitness program models.
In Asia Pacific, Special Olympics created the first home-based fitness program. This is aimed at an especially vulnerable group: out-of-school youth with ID and their caregivers. In Singapore, for example, participants learned specific exercises to strengthen their upper body, lower body and core that they can practice in the comfort of home. It's an ongoing initiative aimed at people with ID, who often combat obesity and neglect.
HEALTHIER AND HAPPIER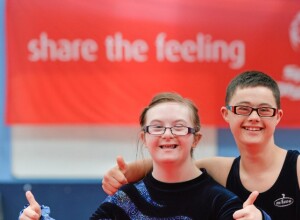 In 2016, research proved what our fans and supporters have known for years: adults and children with intellectual disabilities (ID) in Special Olympics programs are healthier and happier than people with ID who do not participate.
The Special Olympics Programmes Health Impact Evaluation Project in Ireland compared people with ID who take part in Special Olympics to people with ID who do not. The study showed the positive impact of Special Olympics on the health and well-being of persons with ID. Research also found that athletes weren't the only ones to benefit physically and psychologically; the study found their families did as well, thanks to improved social networks and support, and also from enhanced family pride.
Read more.
Health Partnerships that Heal
The Special Olympics Health program is life-changing and even life-saving. This is especially true in the many developing countries in which we work. Our health partnerships are also helping us make a real difference:
As the Exclusive Global Partner of the Special Olympics–Lions Clubs International Opening Eyes program, Lions Clubs have become world leaders in advocating for improved vision and health services for people with ID.
Special Olympics and Catholic Relief Services are working together around the world to bring a wide range of health services to Special Olympics athletes. This is part of a larger goal as we work to improve health systems that affect all people with ID. In Kenya, for example, we were able to bring early childhood development programming to children with ID (Young Athletes), while also strengthening the delivery of Healthy Athletes and Family Health Forums.
Special Olympics Thailand signed an agreement with UNICEF for more than $150,000 to continue advancing their year-round inclusive health work. This partnership represents an innovative way to bring together multiple government ministries on the platform of inclusive health – including the Education, Public Health, and Social Development Depts.
The ultimate goal of this work is to inspire more partners and agencies to modify their mainstream programming to be more inclusive.
Other Health Program Breakthroughs
The U.S. Centers for Disease Control and Prevention (CDC) committed up to $22.5 million to Special Olympics over the next five years. This includes $4.5 million in 2016-17.
Special Olympics Bharat worked with the Dental Council of India to reach an agreement that could provide care to thousands of people with ID. As a result, the Dental Council president and executive committee members issued a directive to more than 300 dental colleges to provide free treatment to Special Olympics athletes.
Special Olympics Egypt increased Healthy Athletes efforts as part of its Healthy Community grant. More than 200 athletes were examined in three different disciplines (Special Smiles, Healthy Hearing and Opening Eyes). Awareness sessions were also held for families and coaches covering three topics: nutrition, hepatitis C, and obesity prevention.
Family Health Forums events have been held in 11 countries in Africa. These forums provide crucial information about caring for people with ID to families but also to health-care professionals, community leaders and social services providers.
Healthy Athletes is piloting a new emotional wellness focus called Strong Minds. The focus is on helping Special Olympics athletes strengthen their coping skills. Competition provides a natural opportunity to develop active strategies for maintaining emotional wellness under stress, such as: thinking positive thoughts, practicing calming routines and connecting with others. Special Olympics Indonesia was among the first international Programs to launch the Strong Minds pilot.
Special Olympics Lebanon organized a health event for athletes and also for family members. Height-weight and body fat percentage measurements were taken, along with diabetes and cholesterol tests. At the end of the day, everyone received nutrition education. This is a step toward implementing the new Special Olympics Fit Family program.
Questions about the new online Annual Report? Suggestions? Email kmckenna@specialolympics.org.